Hey from Ina May, July 2021
Dear Friends, 
I'm thrilled to tell you that Rewrite the Ending, my NEW RECORDING – I love saying that phrase – is close to completion. It's so close. I wanted to keep it simple because it's my first recording as chief decision-maker and my first foray into recording myself at home. But a few months ago I injured my finger (It's better now thanks) as we were finishing up the tracks, and that emboldened me to seek help from some genius musicians I've played with and admired over the years. This is still mostly a solo effort, but there are surprising and gorgeous contributions from Kenny White on piano, Jerry Marotta on drums, David Brown on resonator and slide guitars, Matt Beck on mandolin and manouche guitar, and Rob Mounsey on keyboards and many wonderful musical ideas. GORGEOUS.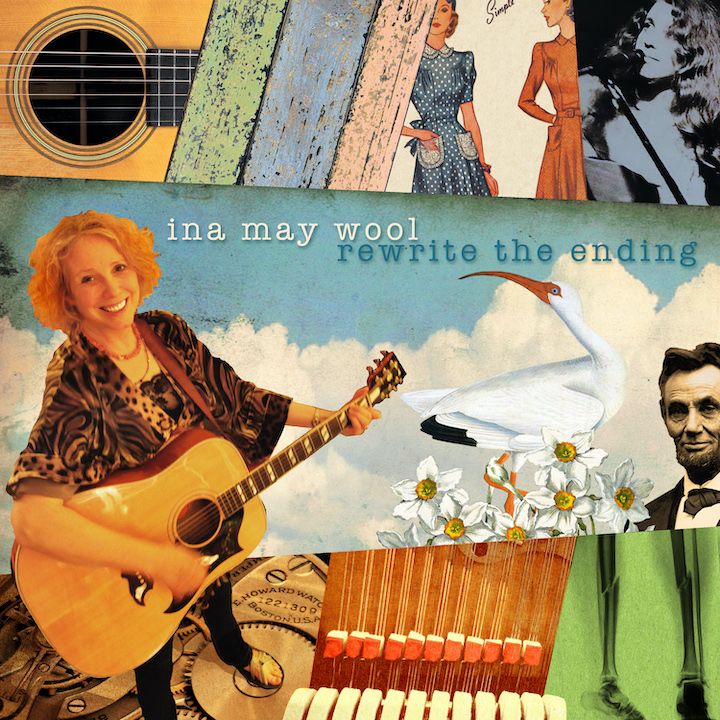 You can still help me out by buying the CD now (click here). As soon as it's mixed and mastered I'll send you your download or CD-plus-download with a personal thank you, probably in late summer. Wait 'til you hear it!
ONLINE SHOW • JULY 21, 8 PM EDT
FYI: Speaking of musicians I've admired, Linda McRae has invited me to sing and play in an online show next Wednesday, July 21, at 8 pm EDT. Linda is a Canadian Folk-Roots-Americana musician I met when she started attending the Jack Hardy Songwriters' Exchange online. A multi-instrumentalist singer-songwriter, Linda is a former member of the platinum-selling group Spirit of the West. She and I will be swapping songs along with Mark Aaron James, Steph Durwin, Mya Byrne, and Derek O'Connor, all Exchange members in good standing.
Direct Links to the Show 
Facebook Live: https://www.facebook.com/lindamcrae42rpm/live 
YouTubeLive: https://www.youtube.com/lindamcrae42/live
Twitter: https://twitter.com/lindamaemcrae
photo by Pascale Jutard
Keep this in mind: A show with three-dimensional actual people on Saturday, September 25th! Members of the Songwriters Exchange will be playing our songs for each other and for you in a community garden on E. 8th Street, as part of the Lungs Harvest Arts Festival. More details closer to the date. 
Here's that link again to buy Rewrite the Ending: 
Thanks so much for your kindness, encouragement, and support! 
With affection, 
Ina May