Hey from Ina May ~ August 2020
Hey Friends,
How are you holding up? I hope you're staying well.
I've been doing lots of writing and teaching, walking in the park and taking pictures, cooking and eating, and Zooming myself silly.
If you're looking for an antidote to the quarantine times isolation, you might try my songwriting workshops. There are three new ones starting up in September – all via Zoom – and you can check out the descriptions and times below.
---
Six Songwriting Thursdays (7:00-8:30 pm)
September 10, 17, 24 • October 1, 8, 15
Six Saturday Sessions of Ina May's Workshop (2:00-3:30 pm)
September 12, 19, 26 • October 3, 10, 17
In both the Saturday and Thursday workshops, we'll warm up by writing to prompts during class. You can laugh and have fun and feel free to write the worst junk in America, but you'll be learning a process (or restarting one). I'll show you how to strengthen your lyrics, memoirs, and other writing using memories and observations.
---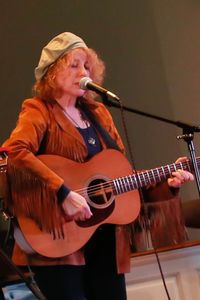 What's in a Song? Fabulous Songs and Why We Love Them (7:00-8:00 pm) 
Tuesdays, September 15, 22, 29 • October 6
For songwriters and non-songwriters.
Do you love songs? Maybe you've written some and want to delve more into other songwriters' work. Maybe you've never written a song in your life and don't know where to start. Maybe you're just curious about how songs are put together. Join us to listen to fabulous songs as we talk about why we love them.
---
REGISTRATION
Thursdays or Saturdays, Six Sessions
Register by SEPT 9 - $179 [ CLICK HERE ] 
Register after SEPT 9 - $199 [ CLICK HERE ] 
Tuesdays, Four Sessions
Register by SEPT 1 - $150 [ CLICK HERE ] 
Register after SEPT 1 - $180 [ CLICK HERE ] 
Refer a Friend
If they register, you can attend one full workshop series for $89. 
---
How to Register and Pay
CLICK HERE, enter the payment amount, and include a note naming your chosen workshop series (Thursdays, Saturdays, or Tuesdays). 
---
Questions?
Contact me here: https://inamaywool.com/contact
Thanks so much. 
With love,
Ina May