Hey from Ina May, May 2021
Dear Friends,  

I've been enjoying this spring more than any in memory and sharing pictures of my walks, mostly in Riverside Park, just about every day.  
About two and a half years ago, I was hit by an SUV as I was crossing the street on my way to a gig, and I surely don't take my mobility for granted these days.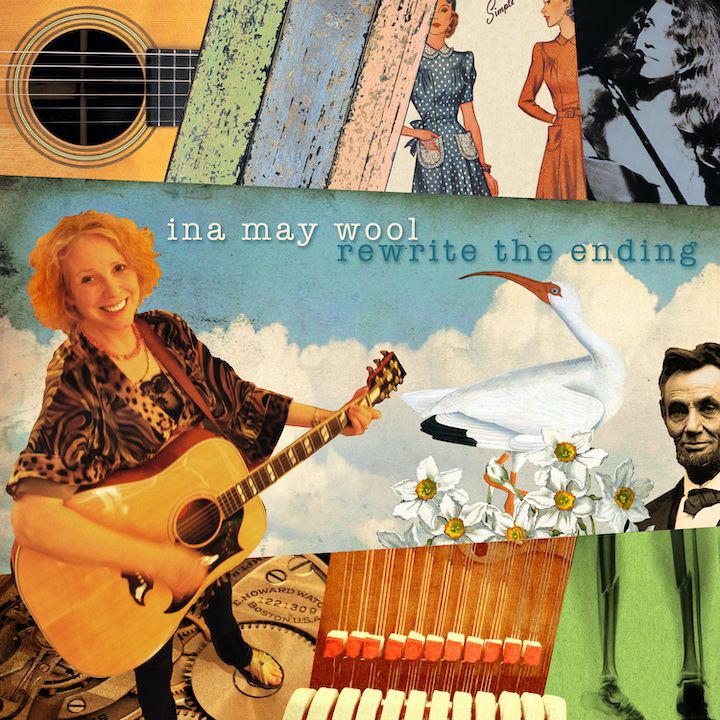 THE ASTOUNDINGLY EXCELLENT NEWS
The astoundingly excellent news is that my recording Rewrite the Ending is going well, and we plan to release it in July. Hurray for Independence! For the very first time, I'm in charge. Rewrite the Ending is a full 12-song collection, and I'm very proud of this creation.  
As I was leading online songwriting workshops during the pandemic, I slowly realized that I myself had over 100 songs in various stages of completion. They were all recorded on my trusty iPhone but had never been released, the one shining exception being last Mother's Day when the music community's dear friend, John Platt of WFUV was kind enough to premiere the song and video about my mother ("Cigarettes and Chocolate Candy").
WHICH SONGS?
There were songs about coming back to life ("Back in the Pool" and "Rewrite the Ending"), songs about heartbreak and resilience ("One of Us" and "Going Through the Pictures"), even a song about my post-accident healing ("Here in My Bones"). A song about the power of kindness in these times ("Time of Trouble"). A song about a little girl and Honest Abe ("Lincoln on the Streets of New York").  
Through late summer and early fall, my dear friend Carolann Solebello shepherded me through the process of winnowing down the list to eleven tunes. Carolann is an excellent singer/songwriter/rabble-rouser who long ago co-founded the group, Red Molly. She and I have been around some similar blocks, we discover more and more. Each week I worked up five or six or seven from the cache, and we met on Zoom and listened and talked and considered. Then I wrote a new one about memories, new/old friends who become family, and one improbably pristine lake in the Adirondacks ("Out Past Yesterday"). The song seemed to resonate with everyone who heard it, so we added that one to make an even twelve.
PUTTING IT ALL TOGETHER
The incomparably wise and musical Sloan Wainwright is my co-producer, and Mark Dann, studio veteran par excellence, is doing fabulous work mixing as well as talking me through recording myself at home. (As Former Technophobe #1, this has been a hugely satisfying undertaking for me.)
THE ART PART
The wonderful cover collage you see at the top of this email was created by songwriter/visual artist Tim Robinson, a Songwriter's Exchange buddy of mine from way back.  
The multi-talented singer/songwriter/guitarist/artist Glen Roethel is doing fine work on graphic design.
WHO'S PLAYING ON THIS THING?
The CD is almost completely solo, me playing guitar and mandolin and singing, during lockdown, but there are a few very sweet cameos with pals from my musical past.  
Kenny White, who's an acclaimed singer/songwriter and producer himself and who works with the likes of David Crosby, Cheryl Wheeler, and Judy Collins, played some gorgeous piano.  
After our early scuffling days in the Ina May Wool Band, David Brown went on to play with Billy Joel, Simon and Garfunkel, and Paul McCartney, to name a few of his well-deserved gigs. David's added positively stellar and heartwarming guitar and dobro to a couple of tunes.  
Jerry Marotta — you might know him from Peter Gabriel, Hall & Oates, or Orleans — cooked up some world-class drum parts on one otherwise a cappella song.
POSITIVELY GIDDY
I love sharing photos of flowers and trees and such, but I'm positively giddy at the prospect of sharing the words and music of this project with you after such a long hiatus and with the open-hearted support of such a crew.  
Naturally, I want to make sure this latest creation gets out to as much of the world as it can, and there's something you can do to support that effort.
ORDER "REWRITE THE ENDING" NOW!
If you could pre-order the CD, it would really help me out. You'd be part of my team and my musical community. You'd be helping me complete the project and promote it to radio. Just as soon as it's finished, I'll personally make sure to send you an autographed CD and/or download before it's out in the world. 
Click on this link (or your favorite black button) to pre-order the disc or download (or both). I would be extremely happy and grateful if you could pre-order and spread the word about the project to friends and family by forwarding this email. (Clicking on any of the pre-order links will allow you to pre-order using PayPal, credit, or debit card.)
THANK YOU THANK YOU THANK YOU!
Thank you so much for all your support over the years, and for your kind words and thoughtful comments. I appreciate your enthusiasm and your help enormously, and I can't wait to put the finishing touches on the music and send it to you!  
Thanks so much for reading this, for pre-ordering, for appreciating my pictures on FaceBook and Instagram, and for all your support and good humor. As Queen Elizabeth said recently, "We will meet again."  
With affection,  
Ina May