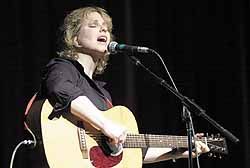 Ina May Wool:
Ina May Wool, the acclaimed folk and Americana singer/songwriter is back in the spotlight again with her brilliant new album, Rewrite the Ending. Known for her insightful, empathetic songs, Ina May's strength and ingenuity shine through on this album. While recovering from a serious auto accident in 2018 and then sidelined from performing by the pandemic, Ina May tapped the talents of some world-class musician friends for stellar musical support as she recorded this album in her living room. The twelve songs featured here are among the dozens she wrote while getting well, and she's eager to sing and play them out in the world. Rewrite the Ending is now playing on the radio from Australia to Texas to San Francisco; this is healing, honest, joyful music. 
"Wool writes excellent songs and sings with passion." - David Johnson, The Boston Globe 
"Ina May is a master storyteller." - Richard Cucarro, Acoustic Live
There are no upcoming events right now.